Bulksign Envelope Downloader
Details
Required OS : Windows 7/8/10/11
Current Version : 1.0
Log Files Location : C:\ProgramData\BulksignEnvelopeDownloader\Logs
Description
Bulksign Envelope Downloader is an application designed to simply and quickly allow you to download the envelope completed files from the Bulksign SAAS platform. It can download the completed envelopes for a single user or for all users of an organization.
How to use it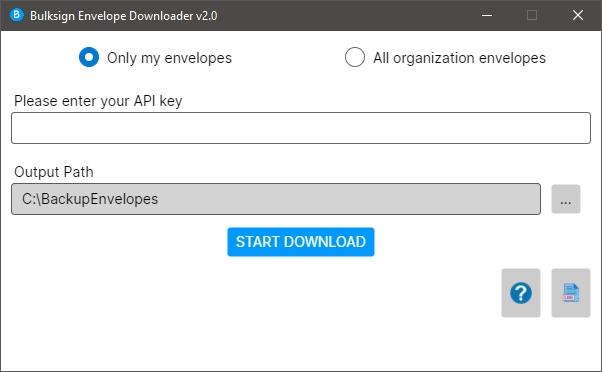 "File Storage Path" : please select the path where the completed envelopes files will be stored. A network path can also be entered, just make sure you have "write" access to that path.
Download all completed envelopes :
If you are an Bulksign Organization Administrator and want to download ALL completed envelopes from all organization users, please choose first option and enter the following data :
Email : the organization

Organization API Key : log in Bulksign, go to Settings\Organization and copy the value of API key. Paste the value in the application.
Download envelopes for a single user:
Log in Bulksign and navigate to "My API Keys" section. Click "NEW" button and enter "Bulksign Envelope Downloader". Copy the generated key and then paste it in the application.
After adding the required data, please click "Start" to start the completed envelope download process. It is recommended to this process in a timely manner (daily).