Visual Customization
( please note that this option is available only for specific license types )
This allows you to customize/brand the appearance of the signing application in multiple ways :
upload your organization logo to be displayed instead of the default Bulksign logo. Your logo will be shown to both envelope senders and signers.

upload a signature image which will be used for ALL signatures of types : ClickToSign, DrawTypeToSign, OTPSign and LocalCertificate. This image will be used as the signature background so we recommend to use a PNG file with transparent background.

with custom CSS the visual appearance of different UI elements can be customized.


The visual customization of the web signing application is done with CSS. Here is a easy guide that shows which elements can be customized :
Top bar
.navbar-fixed-top
{
  background-color: red !important;
}

Example :


Next button
#buttonNext
{
  background-color: white !important;
  color: red !important;
}

Example :


Finish button
#buttonFinish 
{
  background-color: white !important;
  color :red !important;
}

Example :

Page border
.pageImage 
{
   border: 1px solid red !important;
}

Example :


Document images pager
.pager
{
     background-color:red !important;
}

Example :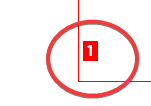 Main buttons used in the dialogs :
.mainButton
{
     background-color:red !important;
     color : white !important;
}

Example :